DON'T TAKE

OUR

WORD FOR IT............
Wow, you guys transformed my bedroom suite into a showpiece! You obviously have an outstanding staff which takes great pride in doing high quality work with great attention to detail. If asked to describe Colonial Woodworks in one word I would eagerly say "Craftsmen. "Thanks for your attention to the details and for listening to my thoughts on what I wanted the final product to look like.
​
JP

"Colonial refinished several of our antiques after our house burned in '91. They did a good job, were very expensive, but these heirlooms had to have the best of care. The end result was great; the antiques looked nicely restored given the circumstances."

AS

"Sally and I are very pleased with the work ya'll did and will recommend you to our friends."

EN

"Steve and I have had a very good working relationship for over 25 years. His work is consistently very good and I have never had a problem with anything that he has done. Work is completed in a timely manner. I trust any piece of furniture with this company."

JL
​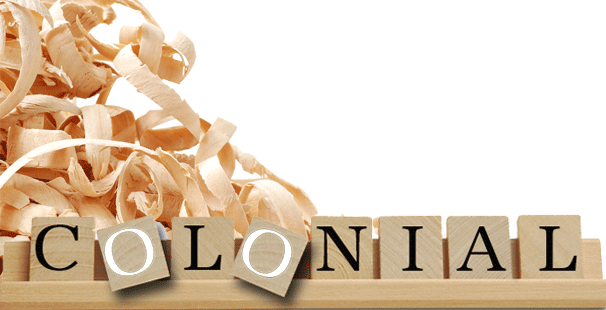 I just want to take a moment here and thank you, Tom and Pete for the courteous and professional treatment that I received regarding the repairs on the damage of my furniture during my move from FL to here in Columbia.
All the repairs have been completed and well appreciated. A job well done and a happy customer."

HS

"I have had Colonial Woodworks repair several pieces of furniture. My Dad, who passed away in May, made beautiful furniture for us after he retired from his optometric practice. Several pieces needed refinishing and repair. Especially since losing Dad, I was anxious that the furniture would be carefully repaired. Colonial Woodworks refinished two cherry end tables and three pieces of outdoor furniture, as well as repairing and repainting two wooden cats that Dad had made and my Mom (who passed away last November) had painted. They are also currently working on converting an entertainment center into a scrapbooking center for me. (continued)
I am thrilled with the quality of the work
which Colonial Woodworks performed. The
$945 was for the outdoor furniture repair
only, which was the work they most recently
completed. Their pricing may seem high on
the surface, but in this case, you get what you
pay for. I wanted the best, and the best is what I
got in choosing Colonial Woodworks. In addition,
when they heard that Dad had made the pieces
and had recently passed away, the entire staff
with whom I interacted expressed sincere sympathy,
and genuinely wanted to take the best care, take their
time, and do a superb job for me. On the wooden cats, Wanda
was very careful to duplicate Mom's paint pattern, and said she enjoyed doing this project. Wanda also did the work on the outdoor furniture and refinished the end tables. Laurie and the other office staff are a pleasure to deal with, and Gary had some creative ideas on converting the entertainment center."

Anonymous
"I took them an oak pie safe that is at least 100 years old and an old (age unknown) oak headboard and footboard to be restored. The pie safe was in really rough condition, it had been painted at some point, it had been stored on a porch without much protection from the weather, one door was broken, the shelves were badly warped, and the doors did not fit. I have had it for a number of years and people who saw would ask why kept it. I told them that it had belonged to my grandmother and someday I was going to rebuild it and refinish it, but that time never seemed to come. After looking at some of Colonial Woodworks work, I decided to have them do the rebuilding and refinishing. The oak headboard and footboard were in somewhat better condition, except that someone had attempted to paint the headboard. When I took it all to Colonial Woodworks I asked how long they thought it would take and they said it could be as much as 5 weeks. Throughout the whole process they kept me informed and asked me about such things as whether I wanted the old door straps and thread spool put back on during the rebuild, how I wanted the tin panels finished, and how I wanted the wood finished. I enjoyed dealing with them and have since taken an old oak ice box to them to be restored. When I got the restored pieces back, it was all beautiful. You can't tell that the door on the pie safe was ever broken and everything fit together much better than I had imagined. One thing that helped them was, I had hung onto all of the pieces and supplied all of them. Everyone who has seen them are amazed at how great they look. One friend who has known that I hung onto the pie safe for years said "Who would have ever thought it would look that great!" I did! Colonial Woodworks strives to keep the original character of what they are working on and gives much attention to details. Be aware that it may take some time, but miracles can't be done overnight."
​
Anonymous